SAVING TIME
WHY LUBO
The composition of Lubo's dry lubricantion consists of natural raw materials. This means that the use of Lubo Fasteners is people-friendly and environmentally safe. Our sustainable lubrication is PFAS-free and meets (especially with a view to food safety) the strict food safety standards of FDA and EC 1935/2004. A Lubo bolt can therefore be optimally used in the food industry.
Lubo Fasteners are also real powerhouses. Ideal for the wind and offshore sector. Because what about the constant coefficient of friction? It ensures a reliable tensile stress in MPTP joints, making the installation of wind turbines faster, easier and cheaper. The lubrication retains its unique composition so that even disassembly (after 1500 hours) is no problem at all. The salt spray test proves this. This saves you time and money when it comes to repairs and maintenance.
If you use Lubo Fasteners, you will never have to grease bolts on the spot again. Machines stay clean, as do your hands and tools. Lubo bolts are 100% durable and can be used in extreme conditions. Temperatures from -120 °C to + 1400°, but also salt water and sand are no threat for the dry lubrication on Lubo Fasteners. Petrochemistry, water & infrastructure benefit tremendously from this.
AVOID Galling
Galling is a form of wear caused by adhesion between sliding surfaces. When a material galls, some of it is pulled with the contacting surface, especially if there is a large amount of force compressing the surfaces together. Galling is caused by a combination of friction and adhesion between the surfaces, followed by slipping and tearing of crystal structure beneath the surface. This will generally leave some material stuck or even friction welded to the adjacent surface, whereas the galled material may appear gouged with balled-up or torn lumps of material stuck to its surface. Galling is most commonly found in metal surfaces that are in sliding contact with each other like stainless steel fasteners. It is especially common where there is inadequate lubrication between the surfaces. However, certain metals will generally be more prone to galling, due to the atomic structure of their crystals. For example, aluminium is a metal that will gall very easily, whereas annealed (softened) steel is slightly more resistant to galling. Steel that is fully hardened is very resistant to galling. Galling is a common problem in most applications where metals slide while in contact with other metals. This can happen regardless of whether the metals are the same or of different kinds. Alloys such as brass and bronze are often chosen for bearings, bushings, and other sliding applications because of their resistance to galling, as well as other forms of mechanical abrasion.
Wondering how our smart solution can improve your turnaround? Ask us about the possibilities!
Features
Environmentally and people-friendly
Time-saving
Low and constant friction coefficient
Clean in use
Does not matter
Always disassemble
After the salt spray test DIN 50 021 NSS of 1500 hours still disassembled
Machinable
Can be used from -120 ° C to ± 1400 ° C
Complies with ELV (2000/53 / EC): Free of Chromium, Cadmium, Nickel, Lead, Mercury and Molybdenum
Lubo Lubrication meets the FDA and EC (FDA statement pdf - EC 1935/2004 statement pdf)
Retains the stainless steel look
Good effect in combination with various types of locking means Light- locking effect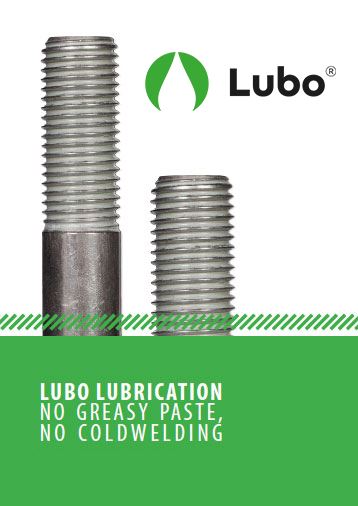 DISCOVER THE TIMESAVER
SAVE ASSEMBLY TIME
Forget about chemical lubricants. Lubo Fasteners' dry lubrication is 100% clean and optimally applicable. It works like this: Lubo provides (stainless steel) threads, large or small, with environmentally friendly lubrication. By means of a vision camera-controlled process a uniform dry lubrication layer is applied to the thread. Friction causes the Lubo Lubrication to melt. As a result, the lubricant functions, as it were, as a wax that makes it possible to tighten or loosen the screw thread in one smooth motion. The pre-lubricated (stainless steel) bolt is not greasy and can be used directly out of the package. This speeds up the assembly process enormously! Our Lubo Fasteners make the use of liquid assembly paste unnecessary. The dry lubrication resists temperatures from -120°C to + 1400°C and even contact with salt water or sand presents no problem. The result? You start assembling immediately!
STUDIES HAVE SHOWN

REDUCED ASSEMBLY TIME
-85% WITH THE USE OF LUBO
START SAVING ASSEMBLY TIME WITHOUT COMPROMISE OF THE STAINLESS GRADE.
IT RUNS SMOOTHLY WITH US
THE PRE-APPLIED LUBRICANT
Lubo Fasteners are leading and highly efficient. We came up with this clever solution as experience experts. Our ready-to-use (stainless steel) bolt has a dry lubrication that does not shed. Cleaning is therefore a thing of the past. And the Lubo Fastener never gets stuck. That means pure time savings! You can start assembling right away!
Want to know more about the advantages of Lubo Lubrication?
Visit us: www.lubointernational.com