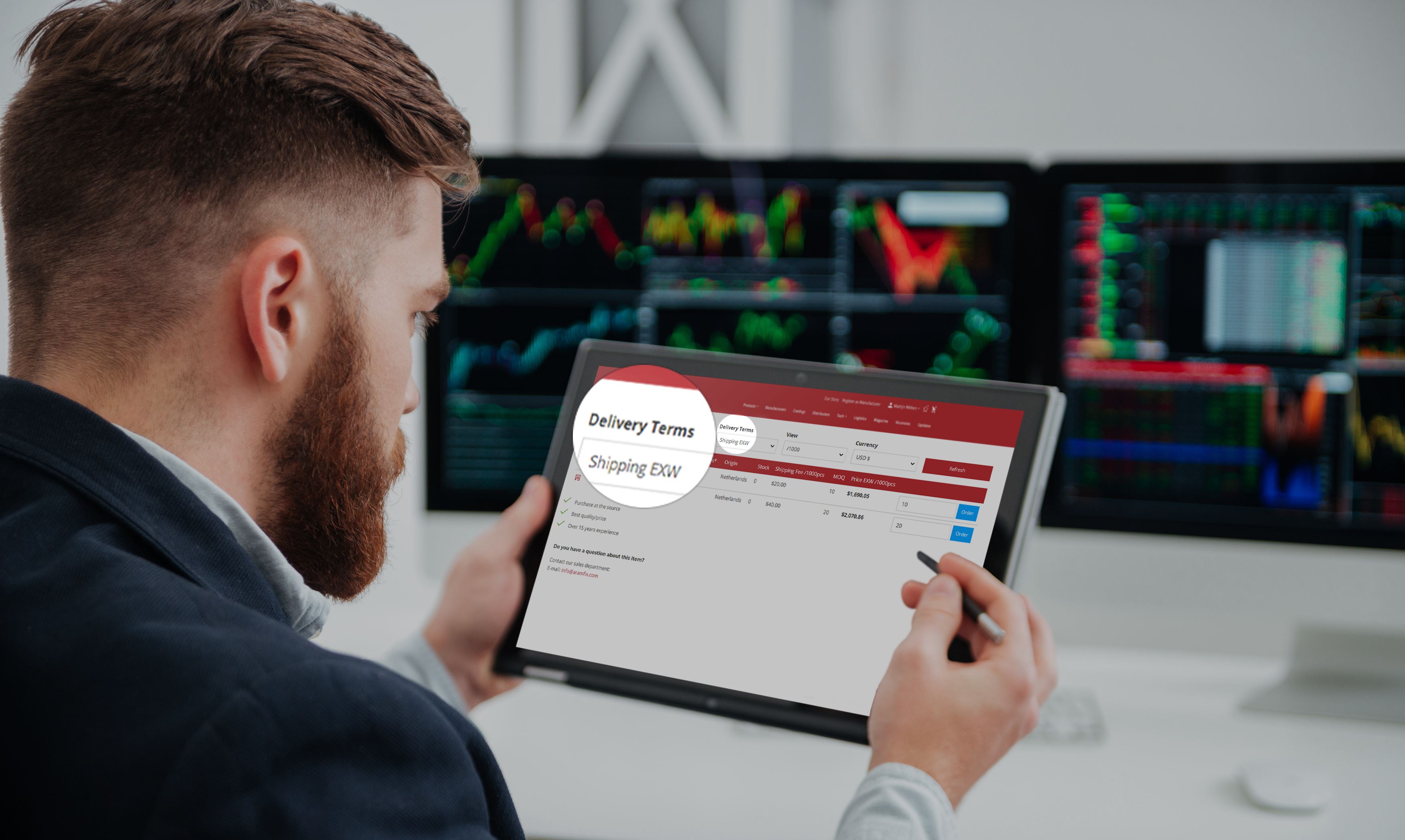 Choose your
DELIVERY TERMS
Compare to others and select your delivery terms. Do you pick the goods yourself in at the manufacturer? You can see the country where the manufacturer or wholesaler is located. Or just ship it worry free to your door. You decide!




TIP: It may be that a delivery at a port in a nearby country is cheaper than your own port. For example delivery to Antwerp is cheaper than Rotterdam or Hamburg. If you are located in Germany and would like to order CIF, then your port Antwerp - Belgium is maybe the best solution! (4 days earlier and lower THC costs.
Shipping EXW
Pick-up at the manufacturer
Ex Works; is an international trade term that describes when a seller makes a product available at a designated location, and the buyer of the product must cover the transport costs.
Shipping FOB
Take over from the port of the manufacturer
Free On Board; is a transportation term that indicates that the price for goods includes delivery at the Seller's expense to a specified point and no further.
Shipping CIF
Get shipped to your port
Cost, insurance, and freight is an expense paid by a seller to cover the costs, insurance, and freight of a buyer's order while it is in transit. The goods are exported to a port named in the sales contract. Once the freight loads, the buyer becomes responsible for all other costs.
Shipping DAP
Get shipped at your adress pay taxes yourself.
Delivery At Place; The seller is responsible for the delivery of the goods including transport costs to the named destination at the buyer. The costs of carrying out all the necessary import formalities are expressly excluded.
Shipping DDP
Get shipped at your door all-inclusive.
Delivery Duty Paid; The seller bears all costs and risks associated with the transport of the goods to the designated destination and is obliged to clear the goods not only for export but also for import, to pay all duties for export and import and to complete all customs formalities.
You´re in control, you decide your sourcing strategy.