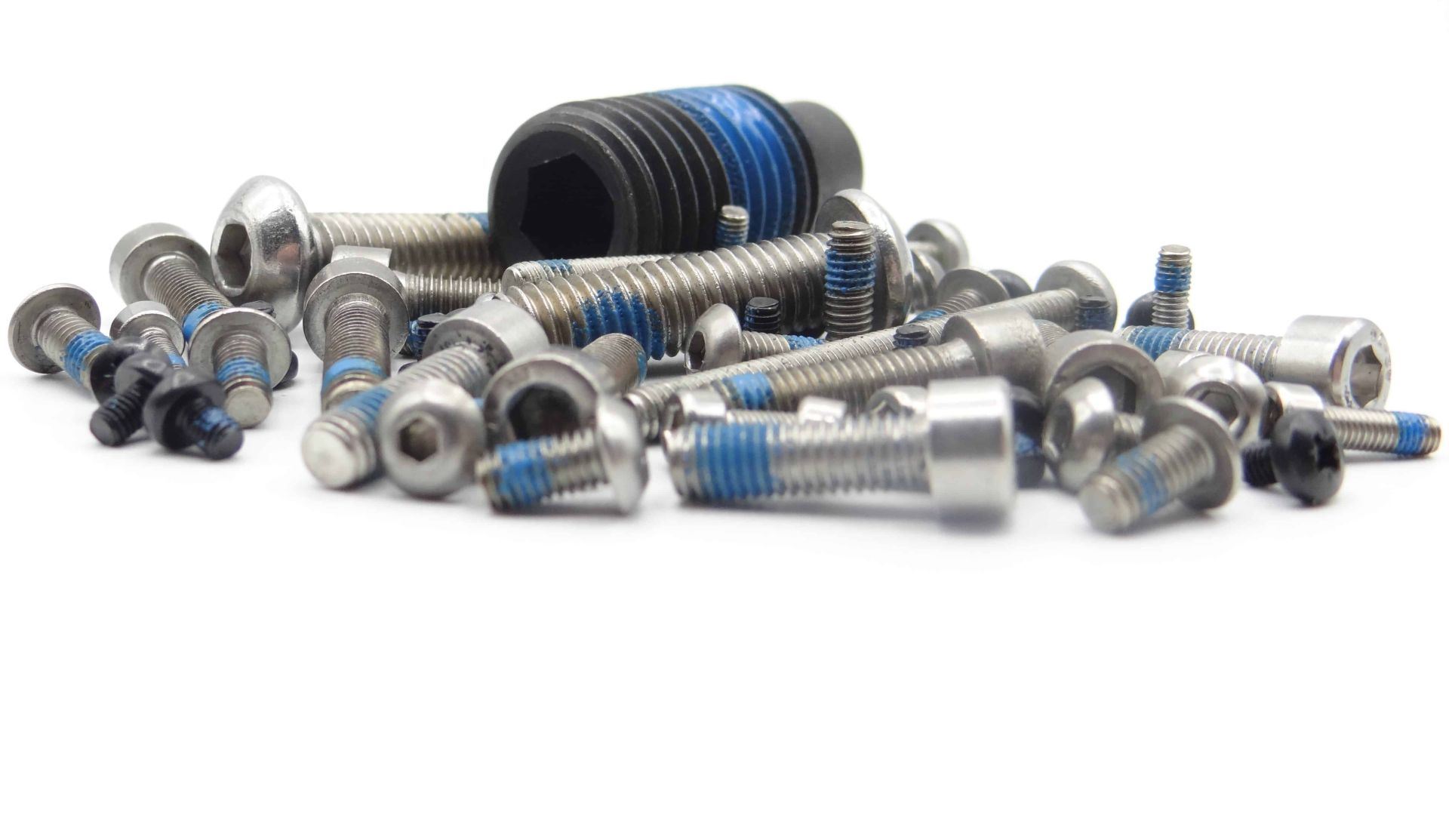 ANTI-VIBRATION
PATCH LOCKING
Fasteners may lose grip over time. What's the solution? The patch increases the prevailing torque and provides excellent vibration resistance! There is a wide range of pre-applicable reinsurance and sealants, eliminating the need for a secondary locking device, hand-applied liquid adhesive or sealing tapes.
Due to its resilience, patch can be repeatedly adjusted and reused. Special Patch location and coating length can be specified for specific applications. A variety of fluids can be sealed using the pre-coating technique like compressed air and gas, oils and hydrocarbons, cooling liquids and brake liquid, water for spraying or immersion.
ARAMFIX provide you the needed patch for your fastener demand. We offer various brands for pre-applied patches like: PRECOTE 80, PATlok Nylon Patches, Loctite Dri-Loc® Thread, Locking Products, Loctite Dri-Seal® Thread Sealing, ND PATCH, Nylok® Blue Patch™, Nylok® Tuflok™, Nylok® Torq-Patch® Lock-Nut, Forest City Technologies Astorlok™, Forest City Tecnologies Eslok®, Bradley Coatings® Nylon Patch, THREADSEALING 3M SCOTCH-GRIP 4291, SELF-LOCKING TLOCK 180° AND 360°, 3M FASTENER ADHESIVE 2353, T-LOCK Seal.
Let us know what you're looking for!
Contact: info@aramfix.com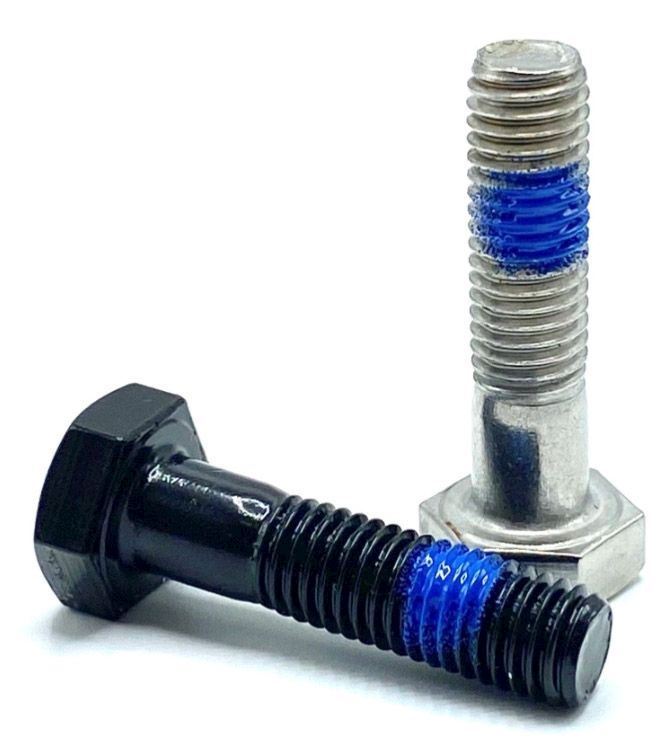 PERMANENT CLOSURE TECHNIQUE
HOW DOES IT WORK
APPLY A PATCH
Steps involved in the pre-application of fasteners
Product selection- find or custom formulate a product to meet your performance specifications.
Material selection- Once a material selection has been made, have your fasteners shipped to one of our worldwide processing centers.
Processing- Utilizing custom, high-speed equipment, we apply the selected material to your exact specification.
Complete parts returned- Once processing is complete, parts are shipped back ready for distribution or assembly.
During the Patch pre-applied process, fasteners are heated and sprayed with a custom nylon powder that adheres to the part. When assembled with a mating part, the engineered plastic nylon patch is compressed.
Due to the elastic memory, it resists this compression and acts like a wedge, increasing the metal-to-metal contact 180° opposite the material. This mechanical force creates a strong, yet fully adjustable lock which will not weaken, even under extreme vibration.
ANY APPLICATION
SOME FEATURES
Saves Time: Fasteners coated can be automatically fed through standard feeding devices.
Retains Full Strength: The process involves no drilling or milling, so there is no loss of the fastener's strength or hardness and any troublesome burrs or chips.
Increases Productivity: By providing additional lubricity, speeds assembly operations and increases productivity.
Minimal Pre-cleaning Requirements: Unlike competitive processes that require parts be completely free of oil or other rust preventative coatings only parts with excess oil or surface contaminants may require pre-cleaning for processing.
Saves Money: Use of Patch eliminates the need for costly lock washers, cotter pins, or castellated nuts. You get a close fit without the costs involved in obtaining close tolerances.
Resists Heat & Cold: Patch meets and exceeds IFI Specifications 124 & 524 as well as Military specification MIL-DTL-18240F, Type P, for temperatures from -70°F (-56°C) to +250°F (121°C).
Chemical Resistant: Patch will not dry, shrink, or lose resilience when exposed to commercial solvents, alcohol, gasoline, oil, caustic soda, jet fuel, etc.
Reusable: Fasteners coated can be reused repeatedly without damage to threads. They are particularly resistant to deformation, which makes them ideal for repeated use.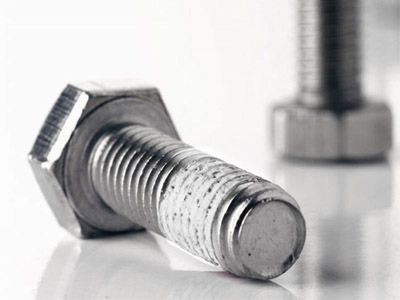 SEALANT
A sealing product water based which blocks fluids leaking at hight temperatures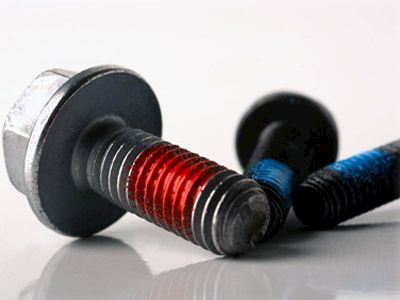 SELF-LOCK
Provides excellent closing performances and a high sealing capacity.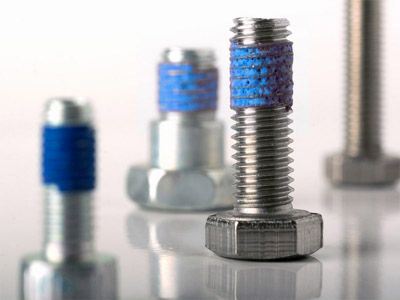 LOCKING
These products have high mechanical resistance, composed of a blocking agent based on epoxy resin.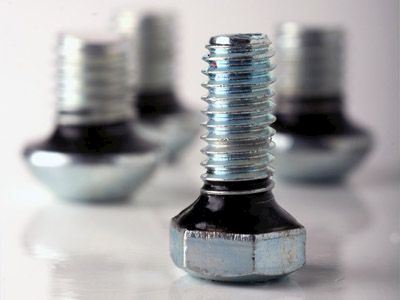 UNDER-HEAD
Plastisol is a PVC based material suitable for many types of shallows. If preapplied on under-head, it produces a seal
COST-EFFICIENT SYSTEM FOR LOCKING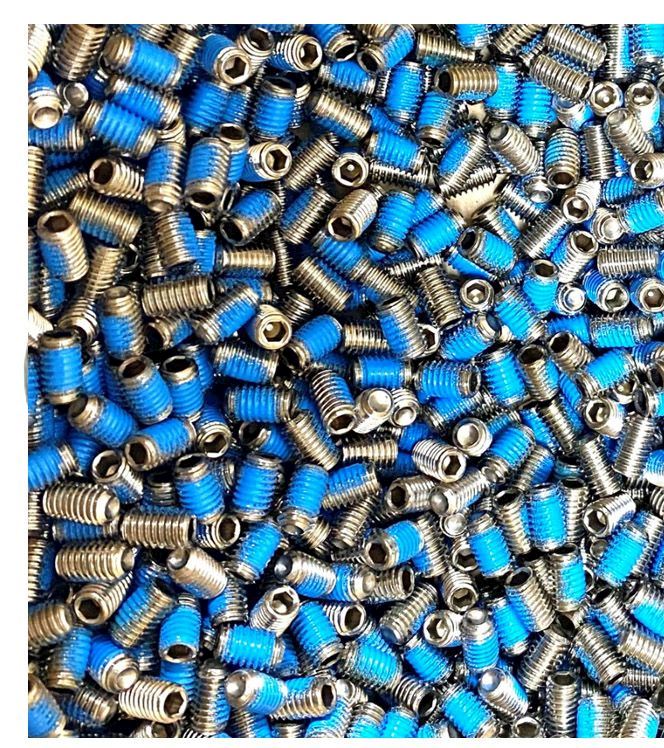 THE SMALLEST SCREW
THREAD LOCKERS
Threadlockers are used in a wide range of industries, from automotive and aerospace, to manufacturing and construction, where fasteners are prone to vibration or highly corrosive environments.
Provide both an immediate and reusable self-locking feature for a variety of threaded fastener types, platings, and finishes specially designed for screws, bolts, nuts, etc. These cost effective, chemical resistant processes deliver advantages in consistency and precision over traditional user-applied threadlockers. These benefits along with thread-sealing capabilities provide an excellent solution for loosening due to vibration and stress.
Our products serve customers around the world in a diverse range of industries such as automotive, aerospace/defense, electronics and industrial.
There is no need for additional locking elements such as lock washers, adhesives, etc
Thread locking is an integrated part of the fastener. It can neither be lost nor forgotten.
APPLICABLE IN MANY INDUSTRIES
DELIVERY IN PERFECT CONDITIONS!