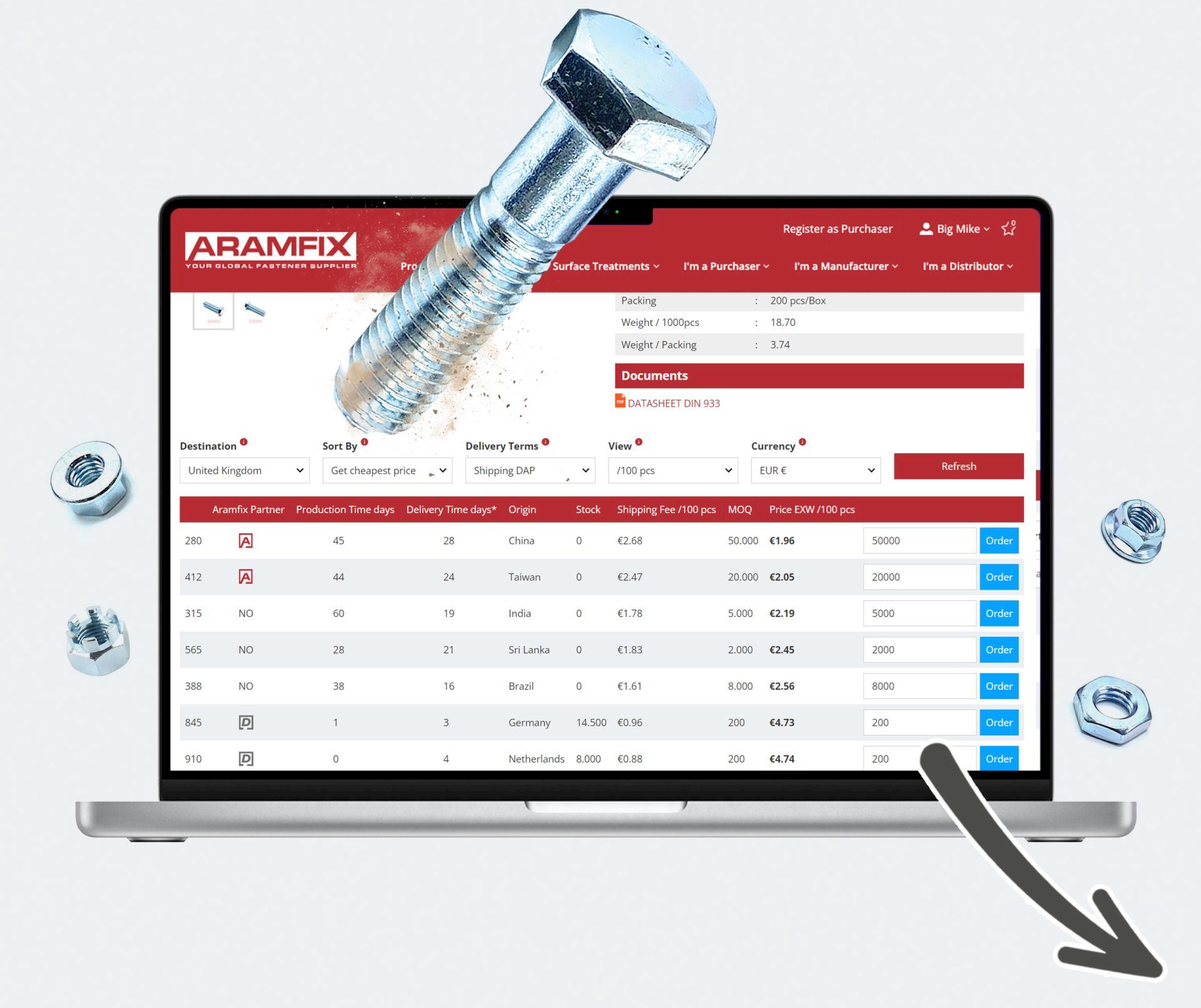 Connect with us by
.xls upload
Zero investment, one-time match with our article numbers and update your database, with our global database as many as you want.
To avoid out-of-stock situations we can adjust your stock levels. For example, we show online only 20% of your stock level. This creates the possibility that customers will not order more than 20% of your total stock. And you decide when to send in a new stocklist with actual prices. We can update daily or once a week. It's up to you!
HOW TO:
.xls upload
We are constantly working on our platform.
You can expect to upload the .XLS by yourself in the next updates.
For now please e-mail us your .xls file or existing product lists (according to the specifications from the video).


DebNumber
This is your unique supplier number provided by ARAMFIX after registration. As buyer and seller you have the same number. Only one registration is needed.
Represent: Your Debtor number
Value: Numbers (max 5 digits)
Sample: 1478
MANDATORY

ArticleNumberAramfix
Search in the database for our articlenumber your stock and price will be shown to this related number. Please take care about the packaging quantity.
Represent: Aramfix Article Number
Value: 25-digit letter/number
Sample: D910CAGPSMF5JM000FHA1F00B
MANDATORY

ExtraDescriptionAramfix
The ARAMFIX header product discription. Here we discribe the articlenumber.
Represent: Article Description
Value: Letters/Numbers (max 60)
Sample: DIN910 Screw Plug with collar M52x2 Fine Class A4 PLAIN 1 pce METRIC Hex Full Blunt
OPTIONAL

YourArticleNo
Write here you own articlenumber to match with our ERP software when we receive a order for you!
Represent: Your Article number
Value: Letters/Numbers (max30 digits)
Sample: DIN910-M52x2
OPTIONAL

YourDescription
Your desciption of the goods. (Not needed)
Represent: Your Article description
Value: Letters/Numbers (max 60 digits)
Sample: DIN 910 M52x20 Stainless
OPTIONAL

YourSalesPriceEXW
Your sales price EXW of the goods.
Represent: Value of exw price
Value: Number divided by , sample:
Sample: 10,00
MANDATORY

PricePer
Your sales price per 1 or 100 or 1000 pieces. This is NOT the packing quantity. The packing quanitity is described in the articlenumber.
Value: Numbers (max 4 digits)
Sample: 1
MANDATORY

YourCurrency
The sales currency of the goods. This is always a short word like EUR - CNY - GBP - USD.
Value: Letters (max 3 digits)
Sample: EUR
MANDATORY

YourStockQty
Your total actual stock in your warehouse in pieces.
Value: Numbers (max 10 digits, no comma)
Sample: 8000
MANDATORY

AvailableSalesStockPercentage
How much percent of the stock you would like to show online at ARAMFIX - write 40% as value 40
With this adjustment you avoid anyone orders more than you have available with cross-selling.
Value: Numbers (max 2 digits)
Sample: 40
MANDATORY

OrderPreparingDays
What time you need in average to pick a order and place ready for shipment? Value in days.
Value: Numbers (max 3 digits)
Sample: 2
MANDATORY

PriceStartDate / PriceEndDate
Written in year-month-day xxxx-xx-xx 2021-11-09 From when till when are these uploaded prices valid? When a prices crosses the PriceEndDate the products and stock are automatically removed.
Value: Value (YYYY-MM-DD)
Sample: 2021-12-15
MANDATORY